The latest product in Conductive plastic range from PANKAJ is best suited for Joy Stick, Industrial controls & multi ganged mechanical feedback. 6mm square hollow shaft allows many potentiometers to be operated by single actuator. Modular type design saves lot of space.
Features
55mm Square Glass Filled Engineering Plastic Body.
11mm thick
6mm Square Hollow Rotor
Multi finger gold plated contacts
Gold Plated terminals
Mounting on Two or Four M3 Screws
Optional Features
Tapping at 90˚, 180˚, 270˚
Different Electrical Angle of Rotation
Dead band as required
330° Mechanical Angle of Rotation of Rotor
Ganged up 'n' number of piece with 6mm Square Rod.
Electrical Specifications
| | |
| --- | --- |
| Standard Resistance Values | 1K, 5K & 10KΩ, Others on request |
| Resistance Tolerance | ±25% |
| Wiper Current (Recommended) | <0.1μA |
| Power Rating | 0.5W at 40°C |
| Maximum Supply Voltage | 50V with 5K and 70V with 10K |
| Electrical Angle of Rotation | 355° |
| Insulation Resistance | 2000MΩ @ 500VDC |
| H. V. Test | No damage for 1 min at 1500VAC |
| Operating Temperature Range | 0 – 70°C |
| IP Protection | IP-40 |
Mechanical Specifications
| | |
| --- | --- |
| Dimensions | 55mm x 55mm x 11mm |
| Life Expectancy | 5,00,000 Cycles |
| Mechanical Angle of Rotation | 360˚ |
| Maximum Angular Shaft Speed | 50 RPM |
| Mounting Method | 3mm, 4 holes at corner |
Other Options
Center Tap
Other Electrical Angle of Rotations
Dimensional Diagram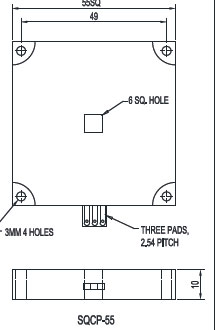 Other Options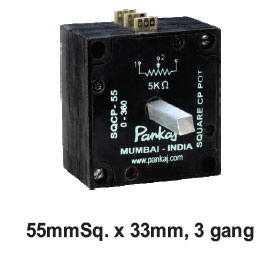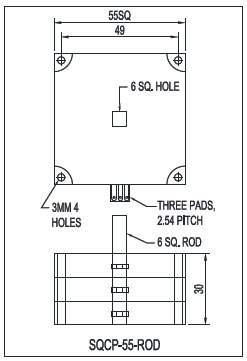 Applications
Automation,
Rotary sensing,
Feedback,
Multi ganged mechanical feedback & many more.
Industrial controls,
Joy Stick,
Ordering Information Example: SQCP-55, 1K
| | |
| --- | --- |
| Model No. | Resistance Value |
| SQCP-55 | 1K, 5K, 10K |
Enquiry Form